ORIGINAL PLAYER BIO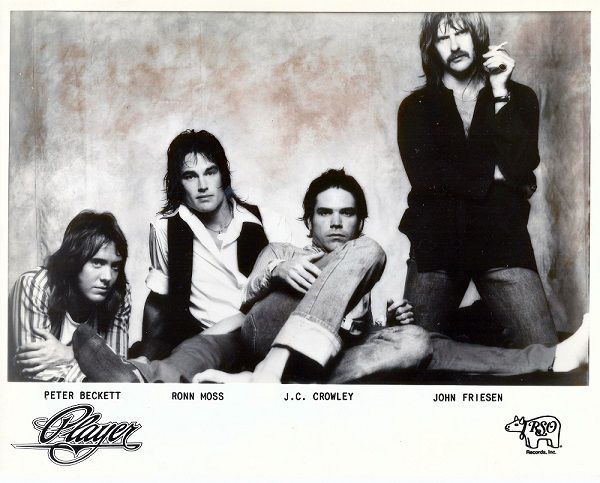 The original band began as a chance meeting between Peter Beckett and J.C. Crowley, in 1977. They met by coincidence, both being the only two dressed in jeans and t-shirts, attending an all-white garb party in Hollywood. J.C. came from Galveston Bay, Texas. Oddly enough, they both turned out to be singer/songwriters, and made plans to get together later and jam. In J.C.'s garage, they began working on their new material. They called themselves Riff Raff but later changed their name to Bandana and recorded a single called "Jukebox Saturday Night". The chemistry was good enough for Beckett and Crowley to agree to the idea of organizing another band to play their own songs. They hired Mark Roswell as their manager, who later brought in Paul Palmer. Paul introduced them to his friend Ronn Moss, who came aboard as their bass player. It was just the three band members jamming for awhile, then Ronn brought in his old friend John Friesen(drums). Both had been in high school bands together. John Friesen had toured with the Ice Follies as a drummer, percussionist, and music director. The band's style of music developed into mainstream soft pop/rock, with mellow keyboards and layered harmonies. This seemed to fit right in with the breezy sounds of L.A at the time. 
 
They began playing bars and gigs to perfect their playing skills. Their potential managers took them around to different producer's offices to play live, lugging their guitars and amps.  The band's theory was that "a demo tape can be thrown on a shelf and forgotten, where as a live band wouldn't fit."  The band was turned down many times when auditioning. They eventually ended up at the office of Dennis Lambert and Brian Potter, successful songwriters and owners of a new production company called Haven Records. Dennis and Brian were well known at the time for producing recording artist such as The Grassroots, The Four Tops, Dusty Springfield, Glenn Campbell, and The Righteous Brothers to name a few. It wasn't until the band played "Baby Come Back" live in their office that Lambert and Potter's chins hit their chests, knowing the band had something unique. They then took the guys into the studio to record a few songs. Based on these tracks alone, Lambert and Potter were quite impressed, but Haven Records had since then folded. They then collaborated with the owner of RSO Records, Robert Stigwood, and CEO Alex Corey, and got the band, still nameless, signed to a record deal.

The matter of a band name was resolved while watching a movie on television. They saw the end credits list the film cast as "players", and so they dropped the "s" to become Player. The band also added keyboard/synthesizer player Wayne Cook, former band member of Steppenwolf (1976), as a session artist. A few short months later, with massive radio play, Player had an international number one hit single called 'Baby Come Back'. This song came about when Peter Beckett had just split from someone he had been in a relationship with for a long time. Still feeling the sting, he sat down with J.C. Crowley, to write, and their moods came out in the song 'Baby Come Back'. This song broke on the radio in October of 1977 and reached number one early January 1978. 

Player was voted by Billboard Magazine's honor roll as Best New Single Artist for 1978. 'Baby Come Back' was immediately followed by their top ten hit, 'This Time I'm In It For Love'. Both songs appeared on their self-titled, debut album, PLAYER. As well as both playing guitar, Peter and J.C. shared the lead vocals on this album, except for 'Tryin' To Write A Hit Song', which Ronn Moss took the lead vocals on.  J.C. is also credited with playing keyboards and synthesizer as well as guitar. They first performed live as the opening act for Gino Vanelli November of '77, then later with Boz Scaggs. It was in the middle of this tour that 'Baby Come Back' became a huge hit, and the band took off from there.

The following year in 1978, they released a second album also on RSO, called DANGER ZONE. This album produced the hit singles 'Prisoner Of Your Love', which made the top 40 list, and 'Silverlining'. Where their first album captured the sunny sound of California pop, DANGER ZONE illustrated the band's progressive pop/rock side with heavier guitars pushed to the front. Both LPs, PLAYER and DANGER ZONE, released also on 8-Track, went gold. The band then continued to tour bigger arenas with Eric Clapton on his famous 'Slow Hand' tour, Heart, Little River Band, and Kenny Loggins, as well as headlining at smaller venues. RSO wanted Player to harden up their image, putting them on tours with hard rock bands. After extensive touring, JC decided to return to his roots in the country music field as Peter, Ronn, and John continued on to record their third LP 'Room With A View'.

Departing RSO, Player  then signed with Casablanca Records, releasing their third album, ROOM WITH A VIEW,  in 1980, which Peter co-produced with Tony Peluso. From this album came the top forty hit 'It's For You'. ROOM WITH A VIEW was a combination of soft, romantic melodies, such as 'Bad News Travels Fast', and heavier rock tunes, such as 'Tip Of The Iceberg'. Peter sang and wrote every song on this LP. By the end of the tour, Ronn Moss' focus had now shifted to acting, and he quit the band to make films in Italy. This left Peter and John as the only two original band members to continue with Player. By 1982, Peter Beckett and Dennis Lambert collaborated on the release of Player's fourth LP, 'Spies of Life', on RCA Records. From that album came the single 'If Looks Could Kill'. Also joining Peter and John Friesen, the only two original band members left, was Miles Joseph(guitar/vocals) and Rusty Buchannan(bass). Miles was credited on ROOM WITH A VIEW as a session artist but was now listed as a PLAYER member on SPIES OF LIFE.  J.C Crowley appeared again on this Player album, but this time as a co-writer with Dennis Lambert on "I'd Rather Be Gone'. After this album, the band members went their separate ways. 

Once again in 1995, Ronn Moss, long time friend and bandmate, got together with Peter to listen to some demos that Peter had been working on in his home studio. Ronn was taken back by what he heard, claiming that Peter was always one of the most incredible song writers he has ever known. Originally, it started out as a solo project for Ronn but then they later decided to release ELECTRIC SHADOWS (Polystar) as the fifth Player album. ELECTRIC SHADOWS was released in Japan on 1995, with Peter and Ronn sharing the lead vocals. Peter, also the producer of this new project, decided to change the title to a more American style and released it in the US as LOST IN REALITY(River North Records), in 1996. The Japanese release listed an extra track called 'Until You Let Go', off the movie soundtrack Frankie and Johnny, which Peterrecorded as a duet with Jeanette Clinger in 1991. The single, 'Footprints In The Sand' was released off of LOST IN REALITY, getting a lot of air play. The other tracks were also straight-to-the-heart melodies
about love and life.

LOST IN REALITY earned Player a nomination at the L.A. Music Awards for best independent production of a cd. This was the first time in fifteen years that Peter and Ronn had performed live as Player. Backing them up was Elliot Easton of the Cars on guitar, Burleigh Drummond of Ambrosia on drums, and Tony Sciuto of Little River Bandon keyboards. The reviews were so amazing, that they had several offers to continue playing live again as Player. River North was orignally a country label out of Nashville, and later dropped the band. Player tried to buy back the rights to the cd, with no luck. 

Longing to be on the road again, Peter and Ronn Moss decided to regroup, touring as Player once again in the spring of 1998. The backing lineup consisted of Tony Sciuto(LRB), Burleigh Drummond(Ambrosia), Steve Farris(Mister Mister), Ron Green(Loggins and Messina), Dave Amato(Reo Speedwagon), Ron Wikso (Foreigner), depending on their schedules. A later lineup of Player included drummer Craig Pilo,Michael Hakes, Ron Green, Tony Sciuto, Ronn Moss and Peter, playing festivals and venues across the United States. Sadly, Michael Hakes died on November 19, 2003, from complications of leukemia. He was an excellent guitarist, sideman, bandleader and composer. He was also known as the creator of a software called SmartSound that offers customers original royalty-free music. After losing a band mate, the band lost their spirit to play, and Player stopped touring. They then continued on with their other projects.

In 2007 Player reunited once again with a lineup of: Beckett, Moss, Pilo, Green, Ricky Zacharaides (guitar) and Ed Roth (keyboards).
By 2009 Rob Math (guitar) and Johnny English (keyboards) had come in to replace Zacharaides and Roth. On November 14, 2009 J.C. Crowley temporarily reunited with Peter and Ronn at Agua Caliente Resort and Casino in Rancho Mirage CA for a tribute concert to Dennis Lambert in a charity benefiting the Desert Arc Foundation.
In February 2013 Player released their new album Too Many Reasons on Frontiers Records. They toured throughout the United States and Canada over the summer as part of the Sail Rock 2013 with Christopher Cross, Gary Wright, Al Stewart, Orleans, Firefall, Robbie Dupree and John Ford Coley. They perform locally at the House of Blues and The Canyon Club in Los Angeles and will be touring with the Yacht Rock Revue both on cruise ships and other venues around the U.S. in 2014
With the parting of Peter Beckett and Ronn Moss in mid 2017, Peter Beckett's Player was born with original singer/songwriter of Player Peter Beckett still touring and keeping the music alive and fresh with his new line up.