ORIGINAL BAND TV CREDITS - 1977-2014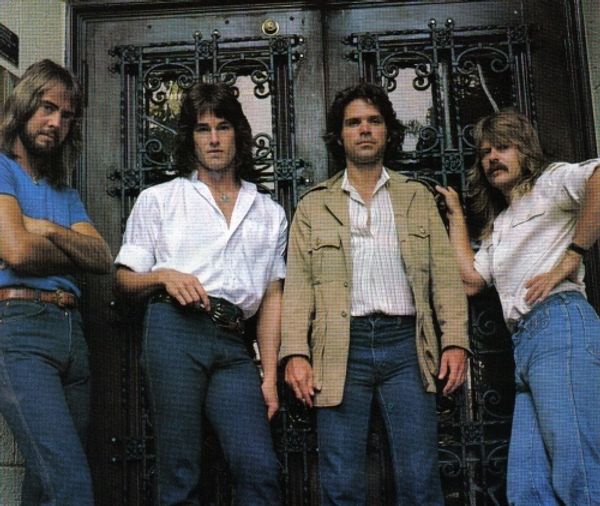 12/21/1977  SEASON 15: EPISODE #6
Merv's guests are actor Richard Deacon, The Waltons John-Boy actor Richard Thomas, rock group Player(Baby Come Back), ventriloquist Roger De Courcey and Peter Tauber author of "The Last Best Hope".
4/5/1978  SEASON 16: EPISODE #138
Merv's guests are actress Cheryl Ladd, actor Tony Danza, comic musician Bruce Mahler, rock group Player and designer Clovis Ruffin who presents a fashion show.
MIDNIGHT SPECIAL

The 90 minute late night rock music series aired 12:30 AM on
Saturday. It followed "The Tonight Show", starring Johhny  
Carson. In it's first year, premiering February 1, 1973, it began at 1:00 AM, but when Johnny Carson cut his own show from 90 minutes to 60 minutes, the starting time was moved to 12:30 AM.

11/04/77   Host: Lou Rawls SEASON 6 (EPISODE #8)Lou Rawls (host) - "Lady Love," "Tradewinds," "You'll Never Find Another Love Like Mine" & "There Will Be Love" --Lou Rawls and Candi Staton - "You Bet Your Sweet Sweet Love" --Kip Adotta (comedy segment) --KC

 & the Sunshine Band - "Keep It Comin' Love" --Alan Parsons Project - "I Wouldn't Want to Be Like You" --Player - "Baby Come Back" & "Come On Out" --Candi Staton - "Young Hearts Run Free" --Rod Stewart - "You're in My Heart" & "Insane" --Midnight Special salute to Harry Nilsson

    03/17/78  Host: Player SEASON 6 (EPISODE #25)Player (hosts) - "Baby Come Back," "Cancellation," "This Time I'm in It for Love" & "Come On Out" --ABBA - "Name of the Game" (probably a music video) --Jay Ferguson - "Thunder Island" & "Losing Control"

 --New Birth - "It's Been a Long Time" & "Coming from All Ends" --Starland Vocal Band - "Afternoon Delight" & "Late Night Radio" --Midnight Special salute to Queen

                    05/19/78  Host: Helen Reddy SEASON 6 (EPISODE #33)
Helen Reddy (guest host) - "Ready or Not," "Lady of the Night," "We'll Sing in the Sunshine" & "Poor Little Fool" --On film: Elton John performs "Ego" --Andy Kaufman (comedian) - "Oklahoma" & "My Way" --Player

 - "Cancellation" & "This Time I'm in It for Love" --Samantha Sang - "Emotion" & "You Keep Me Dancing" --Joe Brooks interview with Flo and Eddie. --Midnight Special salute to Billy Preston
DON KIRSCHNER'S ROCK CONCERT
4/1/1978 (Episode #21) Phoebe Snow - "Poetry Man," "Love Makes A Woman," "No Regrets," "Never Letting Go" and "Good Times (Let The Good Times Roll)."
--Player - "Baby Come Back," "Movin' Up," "Come On Out," "Cancellation" and "Melanie."
--Kansas (music

 video) - "Dust In The Wind."




Comedy:




--Murray Langston (stand-up comedian) 




--Tony Delia (stand-up comedy) - does a pantomime about a man and his new sports car.




--Bill Kirchenbauer (stand-up comedian) - does two routines during show. 




--Gary Mule Deer as Howdy Doody interviewed by Victor Dunlop Jr.
1978    MIKE DOUGLAS SHOW
DINAH! SHOW (Dinah Shore)
4/4/1978  Episode #134-Dinah's guests are actress Patty Duke, TV host Alan Hamel, comedienne Elayne Boosler, consumer affairs expert David Horowitz, actress Susan Newman daughter of Paul Newman, pop group Player, hotel manager Peter Stafford and Chef Anton Mosimann.Highlights:Player performs "Baby Come Back". 

SOLID GOLD-Premiered 9/1/1980



Solid Gold featured pop music performed live(lip sync) in front of an audience along with the Solid Gold Dancers. The dancers counted down the top 10 hits of the week. Several hosts shared top billing over the 8 seasons. The show was syndicated to local stations on weekends and was cancelled due to poor ratings in early 1988. None of the shows have been released on VHS or DVD. Season 1-4 was video taped at KTLA(Gold West), while seasons 5-8 were staged at Paramount Studios(Stage 29).

7/31/1982   SEASON 2 (EPISODE #43
                   Host: Marilyn McCoo/Cliff Richard
                   Player performed:
                   1. Baby Come Back
                   2. If Looks Could Kill

7/15/1983   Solute The 70's (Episode #46)
Rex & Marilyn present the top 40 hits of the 70's decade. Performers include the Bee Gees ("Stayin' Alive"); Captain & Tennille ("Love Will Keep Us Together"); Natalie Cole ("This Will Be"); Gladys Knight & the

 Pips ("Midnight Train to Georgia"); Barry Manilow ("I Write the Songs"); Three Dog Night ("Joy to the World"); America; Debby Boone; Gloria Gaynor; Andy Gibb; The Hollies; Player("Baby Come Back"); and B.J. Thomas("Raindrops Keep Falling on My Head"). Comedy from Wayland Flowers & Madame.

                  

                        

  AMERICA'S TOP FORTY


Host: Casey Kasem
                   First Appearance: Player
                   Baby Come Back
11/26/77 Big Mover Segment: Player
                   Baby Come Back
01/14/78 #1 Player-Baby Come Back
01/21/78 #1 Player-Baby Come Back
01/28/78 #1 Player-Baby Come Back


                           

 AMERICAN BANDSTAND


 
American Bandstand was the most popular rock-n-roll television show of all time. Premiering on August 5,1957, it made TV history bringing rock-n-roll music into millions of households, with outstanding performances by up and coming recording artists. Bandstand first aired on the east coast in Philadelphia, PA., and later found it's way to the west coast in Los Angeles, CA.

1978

3/31/79   SEASON 22: EPISODE #24
Player – "I Just Wanna Be With You" and "I've Been Thinkin'." Deniece Williams - "Time" and "The Boy I Left Behind." 
               

04/03/82   SEASON 25: EPISODE #21
Deniece Williams - "It's Gonna Take a Miracle" & "Waiting for the Hotline" --Player - "If Looks Could Kill" & "Thank You for the Use of Your Love"                 




VH-1


 
1999         1. Where Are They Now ?
                  Player appears on: AM Classics episode
                  Peter Beckett and 

Ronn Moss

 are shown
                  being interviewed, with concert clips of 
                   Player on stage from 1977 and 1999.

                     2. I Love The Seventies
                     Player appears on: 1978 episode




THE BOLD AND THE BEAUTIFUL



1996  

Ronn Moss

 performed 'After All This Time' from
          PLAYER'S new cd called LOST IN REALITY. Also
          appearing with Ronn, backing him up on guitar
          and vocals, was Peter Beckett. 
11/25/2010 HOLLYWOOD CHRISTMAS PARADE1. Mary's Boy Child2. Baby Come Back5/12/2014  GENERAL HOSPITALNURSES BALL BABY COME BACK12/2014 HOME AND FAMILY SHOW on HALLMARK

1.

 Song for AMBER

A wonderful girl by the name of Amber Branham was the recipient of the 25,000th "song of love" that was recorded by the band Player (Baby Come Back) and written by Tony Asher (Pet Sounds writer) and Jimmy Hammer. The chorus of Amber's "song of love" was recorded by the hosts Cristina Ferrare, Mark Steines and regular family members of the Hallmark show "Home and Family". This is the first time that the Songs of Love Experience™, our team building program that engages groups of all sizes in the live recording of a "song of love", was showcased live on national TV!